Geothermal Services in Mount Juliet, TN and Surrounding Areas
If you are looking for a reliable, energy-efficient way to heat and cool your home or business, consider a geothermal heat pump. Also called ground-source heat pumps, these systems extract heat from the earth during the winter and carry it indoors for heating. During the summer, heat is extracted from the indoors and carried to the outside. The system is up to 75 percent more efficient than a standard electric heating, ventilation and air conditioning system. Bentley's Air Conditioning continues its 75-year tradition of excellent service in bringing superior technology for heating and cooling needs to our customers in Mount Juliet and surrounding areas in Middle Tennessee.
How Geothermal Heating and Air Conditioning Works
Although the outside air temperature may be freezing, the earth just a few feet below ground surface stays at a temperature between 45 and 75 degrees F throughout the year. Ground-source heat pumps capture this heat from the earth and transfer it into your home. In the winter, this temperature is warmer than the air. In the summer, it is cooler.
In ground-source heat pumps, a liquid circulates through coils of pipes installed in the ground. In the winter, heat is absorbed from the earth and transferred indoors. The system compresses the liquid to create a higher temperature and then circulates this heat through the building.
In the summer, the process is reversed. Heat is extracted from the indoor air and carried outside, where it is absorbed into the earth. Instead of using energy to generate heat, these systems use energy to move heat. Power is used to run the compressor and fans that circulate heat.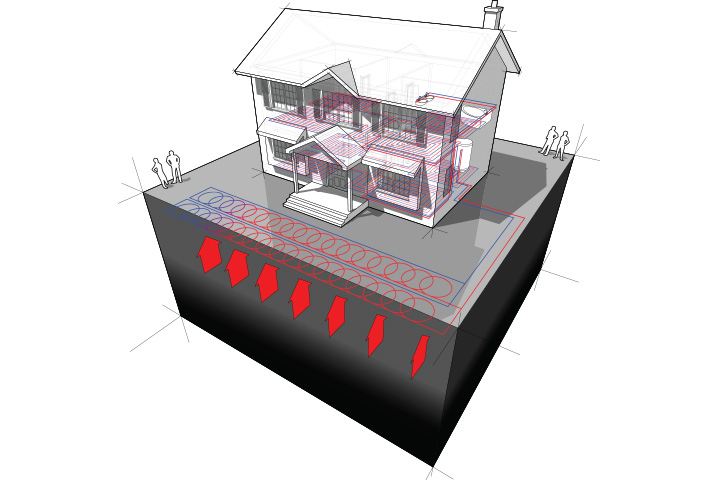 Benefits of Ground-Source Heat Pumps
Ground-source heat pumps are energy-efficient. HVAC units are rated by its coefficient of performance. The COP expresses how much energy a system uses compared to how much it moves. For geothermal air conditioning and heating units, the COP is between 3 and 5. This means that for each unit of energy used to operate the system, as many as five units are generated.
To get an idea of the energy efficiency of a ground-source heat pump, we can compare its efficiency to a gas or oil furnace. A highly efficient furnace may have an efficiency of 90 percent. In contrast, geothermal heating systems have an efficiency of approximately 400 percent. In cooling mode, they are approximately 43 percent more efficient than a standard air conditioning system.
Other benefits include better humidity control, quiet operation and fewer repairs. The subsurface ground loop lasts up to 50 years. The inside components, consisting of a compressor, fan, and pump, last an average of 25 years with proper installation and maintenance.
About Bentley's Air Conditioning
We install, service and repair all types of heat pumps in the greater Wilson County area. We are a Trane Comfort Specialist because we value the reliability and durability of Trane equipment. In addition to Trane products, we also install, repair and maintain all makes and models of HVAC equipment. Our technicians are NATE-certified and undergo regular factory training.
Feel free to call to discuss your heating and cooling needs. We treat each job as our only job. We believe in honesty, transparent pricing and quality craftsmanship.